Originally authored by Kenneth Sherin, former SDSU Extension Community Vitality Program Director.
BROOKINGS, S.D. – Making communities a better place is a continual goal of SDSU Extension across South Dakota. During the recent ENERGIZE! Conference held April 30-May 1, 2019 in Lemmon, SDSU Extension provided opportunities for several community organizations to showcase the resources they offer to citizens, but for the Northern Hills Area CASA, the conference was an especially important opportunity.
CASA, which stands for Court Appointed Special Advocates, provides a voice for abused and neglected children involved in court proceedings.
"Our focus is on the best interest of the children with trained volunteers being the eyes and ears for the judge."
— Northern Hills Area CASA Executive Director Kate Kelley
With the Northern Hills Area CASA providing services to children in the 4th Judicial Circuit, which encompasses the eight counties of Butte, Lawrence, Meade, Corson, Perkins, Harding, Ziebach and Dewey, Kelley notes that sometimes it can be challenging to reach all those areas. Thus, she wanted to be an exhibitor at the ENERGIZE! Conference to help make more people aware of CASA's services as well as the organization's continued need for adult volunteers.
Kelley explains that she was excited about the conference because it was held in a rural community with many of the more than 120 attendees from rural communities.
"CASA relies on volunteers and by attending the conference my hope was to build relationships and perhaps get more people interested in becoming CASA volunteers," she said.
Kelley notes that unfortunately the Northern Hills Area CASA is seeing an increase in cases in communities across their eight-county region. She attributes this to the rising opioid abuse and meth addiction crisis facing many rural areas.
In addition to having a trade show booth at the conference, during the opening session of the conference Kelley was afforded the opportunity to share remarks about CASA's efforts and need for volunteers prior to the keynote speaker. Former SDSU Extension Community Vitality Program Director Kenneth Sherin explained that inviting CASA to be a part of the conference as a civic engagement opportunity partner was a means for SDSU Extension to "pay it forward." He added, "We feel it's important to provide this social cause an opportunity to address an audience they otherwise may not get their message to."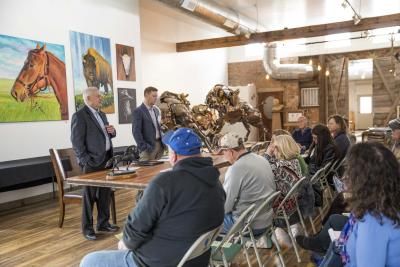 For those interested in becoming CASA volunteers, Kelley explains that volunteers are only assigned one case at a time, which can cover a span of a year or more. CASA volunteers receive training and are appointed to cases by a judge. For more information about becoming a volunteer visit the CASA website or contact Kelley at 605.722.4558 or by email. To learn more about how SDSU Extension works to serve rural communities and all South Dakotans, visit the Community tab.
Kevin Wientijes and Bruce Brandner from the Herreid Community Foundation sharing about the evolution of Herreid's Community Foundation. Session held in Kokomo Gallery in Lemmon, during the 2019 Energize Conference, hosted by SDSU Extension.
John Lopez, helping Rita Anderson with her wire sculpture, during the Make It Take It Event during the 2019 Energize Conference in Lemmon hosted by SDSU Extension.