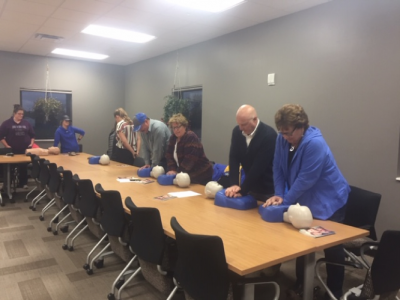 BROOKINGS, S.D. - First responders, rural churches and community members in De Smet and Kingsbury County recently received automated external defibrillator's (AEDs)and CPR training provided by the Well Connected Communities De Smet Wellness Coalition.
Kingsbury County is now equipped with seven more AEDs, three of which were provided to county first responders and four provided to rural churches. Additionally, 35 Kingsbury County residents gained Friends & Family CPR certification, which is obtained by taking a course that teaches a variety of lifesaving skills for all ages.
SDSU Extension applied for and was awarded the Well Connected Communities funds through the National 4-H Council and Robert Wood Johnson Foundation. Due to acquiring the funds, SDSU Extension staff formed and facilitate the De Smet Wellness Coalition.
"Rural communities often lack access to life-saving tools that are needed in the midst of an emergency. Increasing trained individuals in response to a heart attack, as well as providing more availability to AEDs, will lead to a better chance of survival."
— Hope Kleine, SDSU Extension Health Education and Food Safety Field Specialist
Cardiac arrest survival rates are lower in rural communities than in urban areas. South Dakota ambulance responses could range from a few minutes to more than 30 minutes. Many factors affect an individual's chance of survival from an event, including the involvement of bystanders and their ability to perform immediate interventions. Additionally, rural communities often have much lower availability and access to AEDs.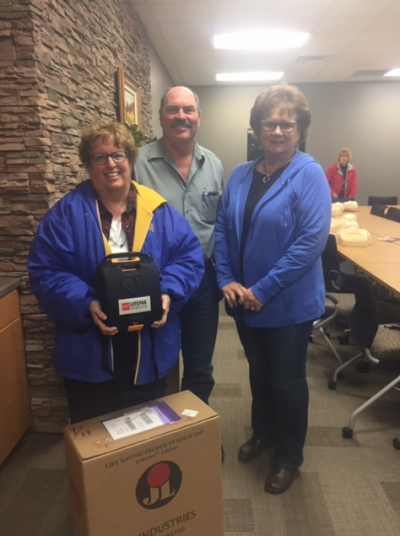 "Our intentions were to increase accessibility to AEDs for those living in the rural areas around De Smet and Kingsbury County so they can have 24/7 access to an AED when needed," said Darcie Lee, member of the De Smet Wellness Coalition. "We selected four rural churches that have a community of farms and recreational activities located around them and provided the members and neighbors with CPR and AED training. We were also able to supplement the De Smet first responders by providing AEDs to the fire and sheriff's departments. We want our first responders to be able to use an AED as soon as it's needed, especially if the ambulance isn't the first to arrive at the scene."
When the community is prepared with knowledge and tools that are needed in the midst of an emergency, better outcomes are possible. In rural areas, outcomes depend on this even more.
To learn more about the Well Connected Communities De Smet Wellness Coalition, contact Hope Kleine by email.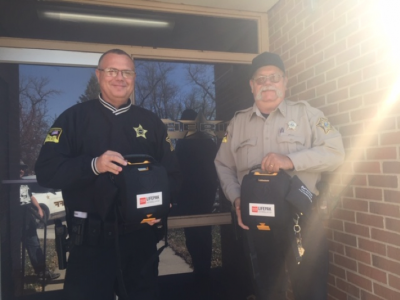 Deputy Mike Jenkins and Kingsbury County Sheriff Steve Strande with donated AEDs.
Gordy Skyberg & Fire Department Chief Shawn Wolkow with donated AED.