Rapid City's Main Street Square featured all-things agriculture on Saturday, September 21, 2019, allowing urban consumers an opportunity to meet the farmers and ranchers who produce their food and learn how they care for crops, livestock and rangelands.
The first-time, free event was called AgriCulture on the Square and was designed to showcase to the public the many facets of agriculture. South Dakota State University West River Research and Extension and the Rapid City Area Chamber of Commerce Agriculture and Natural Resource Committee organized the day's activities and collaborated with over 20 exhibitors and presenters for the event.
"It was a phenomenal event for its first year with nearly 500 people attending," shares SDSU Extension Community Vitality Field Specialist Peggy Schlechter, who was a member of the organizing committee. "Exhibitors did a great job offering hand's-on experiences at their booths to help consumers have conversations and gain a better understanding about agriculture," she adds. Activities included goats on display, free samples of pork, lamb and beef jerky, and a soil tunnel to learn about soil health among many other displays.
Throughout the 11 a.m. to 3 p.m. event, music and speakers were also featured on the Main Street Square stage from a 4-H member talking about chicken breeds, to an FFA member reciting the FFA Creed, and third-generation rancher Brad Lindblom sharing about his family's operation. An auctioneer and rodeo queen also shared their perspectives on their lives in agriculture.
As participants visited the fifteen booths on display they had the opportunity to collect passport stamps – and then redeem a fully stamped ag passport for SDSU ice cream. Drawings for numerous prize giveaways were also held throughout the day.
As a rancher, owner of T-N-T Event & Marketing and member of the Rapid City Area Chamber Agriculture and Natural Resource Committee, Tiffani Robertson was excited to volunteer and be involved with promoting agriculture to the community. "It was rewarding to see families come out and be interested in learning more about how agriculture impacts their daily lives," she says.
Farm Bureau Financial Services was among the booth exhibitors, and along with their business information featured ears of corn and fun facts about the crop at their booth. Insurance agent Cecil LaGrande was impressed with the large attendance from the community and enjoyed the opportunity to build connections with both ag and urban participants. "We are excited to be a part of AgriCulture on the Square in the future," he says.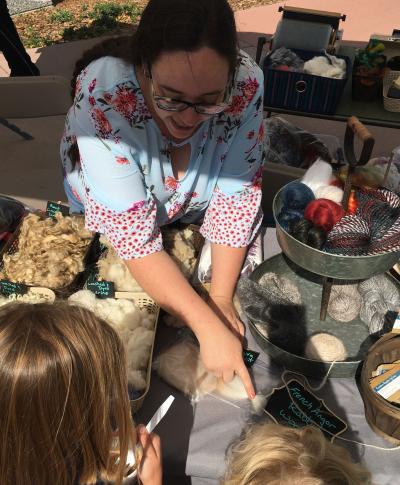 Likewise, Union Center sheep and cattle producer Tammy Basel is eager to see the event continue to grow in downtown Rapid City in the future. "This was a great event to share the ag story with consumers," she says, and notes that it provided a broad opportunity to highlight the multiple aspects of agriculture from food and fiber production to grazing and conservation efforts.
The AgriCulture on the Square event was made possible via monetary donations from two dozen entities, including premier sponsors South Dakota Ag Foundation, Farm Credit Services, Rapid City Chamber of Commerce, The HomeSlice Group and South Dakota State University College of Agriculture and SDSU Extension.
Booth exhibitors included Black Hills Energy, Black Hills National Forest, Black Hills Stock Show & Central States Fair, D&M Ag Supply, Dakota Mill and Grain, FFA, Farm Bureau Financial Services, Pleasant Valley Farm, South Dakota Cattlewomen, South Dakota Grassland Coalition, South Dakota Pork Producers Council, South Dakota Rodeo Queens, South Dakota Sheep Growers Association, SDSU College of Agriculture, SDSU Counseling and Human Development Department, and Western Dakota Tech.
Plans are underway for the second annual AgriCulture on the Square at Rapid City's Main Street Square to be held in 2020.