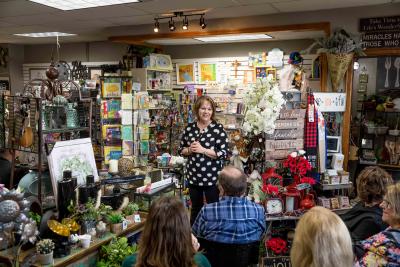 The local grocery store is an integral institution of rural communities and in rural life. Not only does the local grocery store provide the sustenance of life, it fills the roles of economic driver, community builder, employer and meeting place. Unfortunately, many rural communities across the nation are losing local grocery stores, and residents are forced to leave their communities to purchase food, often at great expense due to great distance (Bailey, 2010).
In 2009, Willow Lake kick-started its closed grocery store and has kept it going strong, thanks to a volunteer committee not afraid to ask for help. During the Energize! Conference held in De Smet Kristin Vandersnick explained how finding the right person for the job — whatever that job may be — makes all the difference.
Although creating and running a community-owned grocery store is a challenge, Willow Lake, South Dakota's Lake Grocery has been a beacon for the community for over five years. Operated by Willow Lake Area Advancement, the store employs a full-time manager and two part-time employees in addition to volunteers. Although the organization described the project as a leap of faith, it has worked out well for the community and the nonprofit (Nelson, 2016).
For most rural communities facing the loss of a local grocery store, failure is not an option. Allowing a local store to close and remain closed until the community or the economy rebounds does nothing but place the community on a path for further depopulation and economic decline. New residents and young families are unlikely to want to live in a community without a place to purchase food, and purchase patterns get set as people start and become accustomed to purchasing food in another
community. The lack of resources and reliable transportation for many rural residents also raises the specter of hunger and unhealthy eating in communities without a local grocery store (Bailey, 2010).
Here are two sites with more information about what to do when faced with losing a rural grocery store.
References: