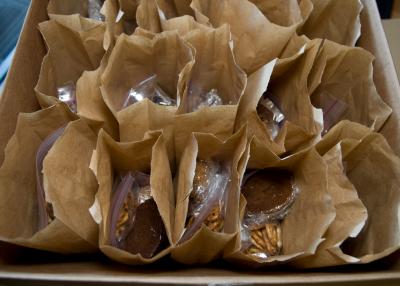 Originally written by Jennifer Folliard, former SDSU Extension Family & Community Health Field Specialist.
During the 2018-2019 school year, approximately 41% of all students in South Dakota participated in free or reduced-price lunches as part of the School Lunch Program. These students rely on these meals and without them they may go hungry. Proper nutrition is vital at this age to promote healthy growth and development. With the recent COVID-19 outbreak, Gov. Noem has issued a closure of all public schools. Students will be at home throughout this week, possibly longer, and communities are stepping up to ensure they have access to food. The USDA has approved the serving of food in South Dakota at school sites and non-congregate settings during the time of these closures. Different communities throughout the state are using programs to provide meals to kids that may not have access to food while school is closed.
Food Resources
Below are some resources that offer their help during this difficult situation.
Aberdeen Area:
The Aberdeen Salvation Army is doing a program called "Feed the Kids" where kids can grab a free sack lunch.
The Groton Area School District, through the contributions of generous community members, will be offering free lunches to children aged 1 through grade 12 regardless of whether a family meets income criteria for free or reduced priced meals. Sack lunch meals will be served from the Groton Area Elementary school main entrance from 11:30 AM to 12:30 PM daily from Tuesday, March 17 through Friday, March 20. Lunches will be "grab and go" and provided at no cost.
The Boys and Girls Club of Aberdeen is serving a "to-go" lunch meal along with a breakfast 7 days a week from 11:30am – 1:00pm to all children ages 1-18. This is a FREE meal pick-up program for children ages 1-18 years old. Children MUST be present to receive a lunch/breakfast to-go.
Brookings Area:
Brookings Backpack Project is offering free meals to kids. They typically provide meals for students who need them for the weekend. Due to the closures, they are offering to double the number of meals for kids to provide them food for the week. A central location is still being decided. 
Gracepoint Wesleyan Church is also offering free meals.
Mitchell Area:
Both the Wagner and Lake Andes food pantries will be providing extra food to any families in need
Wagner Area School District: GRAB & GO MEALS - During the week of Monday, March 16 to Friday, March 20 - Breakfast and Lunch – Grab and Go Sack meals will be made and given to children 18 yrs. and younger. There will be three pickup areas:

Elementary School Entrance, East side of school: 8:00 AM – 9:00 AM and 11:30-12:30.
South Housing, School Suburban: 8:00 – 8:15 AM and 11:30 – 11:45 AM
North Housing, School Suburban: 8:30 – 8:45 AM and 12:00 – 12:15 PM
Pierre Area: 
The Pierre School district will be offering free meals (breakfast and lunch) to students. The food trucks will be located in three different locations:

Southeast Community Center Parking Lot (2315 E Park Street) from 11:30am- 1:30pm.
Georgia Morse Middle School Back Highland Parking Lot (309 East Capitol Avenue) from 11:30am-12:15pm.
Buchanan Elementary (100 North Buchanan Avenue) from 12:30–1:30pm.
Rapid City/Box Elder Area:
Three Rapid City churches are offering curbside sack lunches to all students in Rapid City Area Schools, Monday-Friday from 10:30 am-Noon. 
Fork Real Community Cafe is offering free lunches to all families this week at no charge. Hours: Tues-Fri & Sun 11:00-1:30 324 St. Joseph Street Rapid City, SD 57701.
Club for Boys will provide brown bag meals on a first come, first serve basis for members beginning 3/18 through 3/20 and March 23-27. Brown bags will be served out of the back door of their building from 5:00-6:00 pm or until they run out. 320 N 4th St, Rapid City, SD 57701
Youth and Family Services is assembling Grab-and-Go food packages for their enrolled children. The package will include 3-4 days of food for the child. These will be available on 3/18 and 3/20, pick up time is 7:30-9:00 am and 4:30-5:30 pm. 
Rapid City Area Schools Food Services Department will provide bagged meals for students next week (March 23-27). Check their website for times and locations of food distribution. Visit the Rapid City Area Schools website for more details. 

South Park Elementary: 207 Flormann St., 10:45-11:15AM
General Beadle Elementary: 10 Van Buren St., 10:45-11:45AM
Horace Mann Elementary: 902 Anamosa St., 11:00-11:30AM
Knollwood Elementary: 1701 Downing St., 11:45AM-12:15PM
Rapid Valley Elementary: 2601 Covington St., 11:45AM-12:15PM

Douglas School District began serving free bagged lunches on 3/17 for anyone 18 and under in need of food assistance, 11 am-1 pm. Families will use the bussing lane, stay in their vehicles, and lunches will be delivered to their cars. Multiple locations are available and described on the Douglas School website.
Sioux Falls:
Several schools in the Sioux Falls school district are offering "Grab N Go's" where students are able to come get food from the school. The schools want to remind the public to only have healthy individuals pick up the meals.

Locations include:

Laura B. Anderson Elementary: 1600 N Wayland Place
Hawthorne Elementary: 601 N Spring Avenue
Hayward Elementary: 400 N Valley View Road
Anne Sullivan Elementary: 3701 E 3rd Street
Terry Redlin Elementary: 1721 E Austin Street
Lowell Elementary: 710 W 18th Street

Please reference the 211 Helpline (call 211) to find many more community organizations serving meals in Sioux Falls.
The Barrel House and Complete Media are also offering free to-go boxes for students under the age of 18.
Watertown
The Watertown School District will provide a free lunch/meal to all Watertown School District students upon request. Meals will be available for pick up beginning Monday, March 23rd between the times of 11:30 AM - 12:30 PM at certain schools. Should school remain closed beyond March 27th, you will be asked to complete an additional order form. One order form is required for each student. The form can be found online.
School District Food Service
The South Dakota Department of Education has compiled a complete list of school districts that are continuing school food service. That list is updated daily and can be found on the SD Department of Education website. Each school's serving method will vary by location and hours of availability. We advise you to contact your school district for more details.
As of March 17, here are the schools that were listed: Agar-Blunt-Onida, Alcester-Hudson, Armour, Baltic, Bell Fourche, Bowdle, Bennett County, Brandon Valley, Brookings, Canistota, Canton, Chamberlain, Chester, Cheyenne. River BIE, Clark, Custer, Dakota Valley Dell Rapids, De Smet, Deubrook, Douglas, Elk Point-Jefferson, Enemy Swim, Faulkton, Flandreau, Freeman Public, Garretson, Gayville-Volin, Gettysburg, Groton, Haakon, Harrisburg, Hot Springs, Hoven, Isna Wica Owayawa, Lake Preston, Lead-Deadwood, Lennox, Leola, Little Eagle, Marion, Marty, McCook Central, Meade, Mitchell, Mobridge-Pollock, Mount Vernon, Northwestern, Oelrichs, Pierre, Pine Ridge, Porcupine Contract Schools, Rapid City area schools, Redfield, Sioux Falls, Sioux Valley, Sisseton, South Central, Spearfish. Stanley County, Summit, Timber Lake, Todd County, Vermillion, Wagner, Waubay, Wessington Springs, West Central, White River, Wilmot, Woonsocket, Wounded Knee, Yankton, and Youth and Family Services (Rapid City area).
Additional Resources
Feeding South Dakota is also working to do extra emergency packing for families and children. To find updates on programs offered through Feeding South Dakota, follow their Facebook page or call (605) 335-0364.
The Sioux Falls and Rapid City pantry locations are close until further notice, but starting March 23,  Feeding South Dakota will be distributing emergency food boxes, drive-thru style.
Feeding South Dakota's BackPack Program will discontinue the distribution of backpacks until further notice. No backpacks will be delivered to schools nor will they be available for pick-up by neighboring school districts.
Feeding South Dakota's Mobile Food Pantry Program will continue its regularly scheduled food statewide distributions with the exception that the food will be in pre-packed boxes and bags and will be distributed drive-thru style.
Seniors in eastern and central South Dakota who are currently receiving food assistance through the Commodity Supplemental Food Program (CSFP or more commonly known as the "Senior Box Program") will continue to receive their monthly box as typical.  
Feeding South Dakota is also looking for volunteers to help sort and pack the extra boxes needed during this time. 
The 211 helpline is also available to help navigate food, housing and other services available during this time. 211 provides a 24/7 hotline which is connected to a trained team that is able to provide up to date information. If you need assistance finding food, or basic essential needs, call 211 to speak to someone who can help.
If you have specific details on hours or availability of meals that your school district is offering during this time, please send them to Jennifer Folliard.