Written collaboratively by Tong Wang, Iftekhar Uddin, and Ahmed Chowdhury.
The recently released 2017 Census of Agriculture data (NASS, 2017) shows that South Dakota (S.D.) has experienced a considerable increase in acreage harvested of two major crops, corn and soybeans over the past decade.
Dominance of Corn and Soybean in S.D. and Neighboring States
South Dakota
In 2017, corn and soybeans together accounted for 70% of S.D. harvested crop acreage, in comparison to 57% as of 2002 (NASS, 2017). In contrast, both wheat and hay production declined over the 2002 - 2017 period, with wheat harvest acreage reduced from 12% to 8% and hay harvested acreage reduced from 27% to 18% (Figure 1). Other crops, including sunflowers, oats, sorghum and barley, when combined together only accounted for approximately 5% of all harvested cropland over the last 15 years.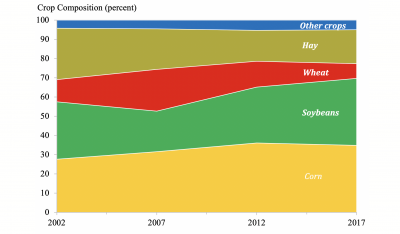 Neighboring States
Proportion of corn and soybeans production in several neighboring states has also experienced a similar growth (Table 1). Meanwhile, the growth in acreage in corn and soybeans in the Midwest states is accompanied by a loss of crop diversity, which could cause over-reliance on insecticide, herbicide and fertilizers.
Table 1. Percentage of corn and soybean harvested acres in South Dakota and several neighboring states.

| | | | | |
| --- | --- | --- | --- | --- |
| Corn and soybean harvested acres | 2002 | 2007 | 2012 | 2017 |
| South Dakota | 57% | 53% | 65% | 70% |
| North Dakota | 22% | 29% | 41% | 50% |
| Iowa | 93% | 95% | 96% | 95% |
| Minnesota | 76% | 79% | 83% | 84% |
| Nebraska | 72% | 73% | 79% | 80% |
Benefits of Diversified Crop Rotation
Compared to monoculture or simple rotation system, more diversified crop rotation systems could bring productivity and environmental benefits through reducing chemical and fertilizer usage and keeping pollutants out of the waterways (Davis et al., 2012). A survey carried out in South Dakota in spring 2018 with 3,000 farm managers indicated that producers to a large degree agreed with the soil and ecological benefits of diversified crop rotation (Table 2). The top three ranked benefits by the 708 respondents were 'breaking pest and disease cycle', 'promoting ecological diversity' and 'increasing soil fertility and productivity'. Among the factors listed, 'protecting against the commodity price volatility' was considered as the least beneficial, with 41% respondents showing disagreement with this statement and 8% showing strong disagreement.
The adoption of diverse crop systems in the farming system can protect farmers against the reduced demand for a single crop (Francis, 2005). Due to oversupply and uncertain export demand in the near future, diversification of crops could help farmers diversify their income source while improving soil and ecological health.
Table 2. Producer opinions on potential benefits associated with diversified crop rotation (Note: 1 = Strongly disagree; 2 = Disagree; 3 = Agree; and 4 = Strongly agree)

Benefits

Strongly
Disagree

Disagree

Agree

Strongly
Agree

Average
Rating

Breaks pest and disease cycle

1%

7%

63%

29%

3.2

Promotes ecological diversity

1%

10%

69%

20%

3.1

Increases soil fertility and productivity

1%

11%

69%

19%

3.1

Increases crop yields

1%

15%

67%

17%

3.0

Reduces herbicide usage

2%

20%

61%

17%

2.9

Reduces fertilizer requirement

2%

31%

56%

12%

2.8

Protects against commodity price volatility

8%

41%

42%

8%

2.5
Challenge in Identifying Profitable 3rd and 4th Crops
Despite the well-recognized soil and ecological benefits of diversified crop rotation, the increasingly dominant trend of two major crops indicate producers also face major challenges that prevents them from transitioning to more diversified crop rotations. While lack of access to specialized planting equipment, lack of available crop insurance, and a need to develop new marketing information for new crop varieties were considered by some producers as challenging, a major challenge faced by most producers is the lacking of profitable 3rd and 4th crops.
The Bottom Line and our Current Research
Diversified crop rotation practice could become one of the most effective agriculral conservation practices as it offers numerous benefits that support long-term soil fertility in South Dakota. However, in order for more farmers to have incentives to adopt such practice, it is necessary to identify the profitable 3rd and 4th crops. One of the objectives of our current 'Soil Health Economics in South Dakota' project is to offer insights on the profitability and resilience of diversified crop rotation systems when compared with two crop rotation system. Using the experimental station and farm level data, researchers in SDSU are currently carrying out benefit-cost ratio and profitability comparisons for different crop rotation options. Results from this project will help foster awareness among producers about the economic feasility of diversified crop rotation practice.
References:
Davis AS, Hill JD, Chase CA, Johanns AM, Liebman M. (2012). Increasing Cropping System Diversity Balances Productivity, Profitability and Environmental Health. PLoS ONE 7(10): e47149. doi:10.1371/journal.pone.0047149
Francis, C. A. (2005). CROP ROTATIONS. Encyclopedia of Soils in the Environment, 318–322.doi:10.1016/b0-12-348530-4/00253-8 
U.S. Department of Agriculture, National Agricultural Statistics Service (NASS) (2017). 2017 Census of Agriculture.