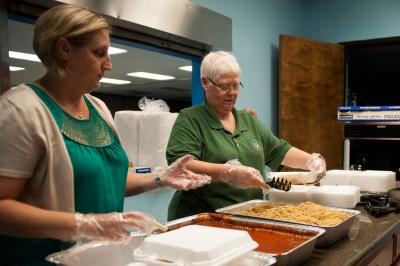 At a time when we all need to use caution with human contact, the ideas of human fellowship remains important to our mental health. People are getting creative with ideas of serving their rural communities in new ways.
In Martin, the Wellness Coalition received a SD Community Foundation grant to serve monthly fellowship meals. Knowing they couldn't bring the one hundred-plus attendees together this month, they decided to prepare a take-out meal that people could either come and grab or have delivered. Even that short time of interaction with another person could be a day brightener for lonely folks.
Healthy volunteers are shopping and delivering groceries to neighbors that are at-risk for flu and prefer to stay at home. This might be a volunteer position for high school students who are getting bored at home. A chat by phone or through a screen door while bringing groceries might be more needed than you know.
Springtime often means fundraiser meals scheduled for organizations or churches. Before cancelling the event totally, think about new ways a meal could be shared and a short conversation held. Meals that are fully prepared in a certified kitchen can be bagged for take-out, or people might walk through a line with ingredients and pack up their own meal while wearing gloves.
Precautions to Consider
Of course, there are precautions to consider before altering plans for a community meal. Here are a few considerations:
Washing hands thoroughly and wearing gloves to serve.

Providing a hand sanitizer station or wet wipes to people coming into a room where food is located.

Making sure preparers are healthy and allowing at-risk people to bow out of volunteering without guilt.

Only letting a few people within a space at a time. CDC recommends no more than ten.
Rural communities are used to gathering socially over food. While we have to be extra careful about spreading germs right now, we still have to eat, and still want to visit. What are some creative ways you can help bring a small bit of joy to someone isolated in your community?