Originally written by Joshua Hofer, SDSU Extension Community Vitality Field Specialist.
"It's not what you know, it's who you know."
Whether it is entrepreneurism, leadership development, education, healthcare, good governance, managing natural resources, strategic planning, or economic development; as an individual looking to drive change in our South Dakota communities, with so many challenges it can be difficult to know where to start.
In these difficult days of COVID and political unrest, if you are looking for a place to start, or get momentum for your next project, focus on social capital.
What is Social Capital?
Defining social capital requires a bit of a nuanced eye. There is no formal agreed upon definition of social capital, but here we borrow the definition suggested by American political scientist and economist Francis Fukuyama. He suggests the framework of: "the ability of people to work together for common purposes in groups and organizations". If selecting a word in the English language to encapsulate this concept, the word "trust" is often used.
In essence, we all participate in building social capital. When life gets difficult, we rely on close relationships who create a safety net. Some of our happiest and most rewarding hours may be spent talking with neighbors, supporting family members, sharing meals with friends, and volunteering for community projects.
A Crisis of Trust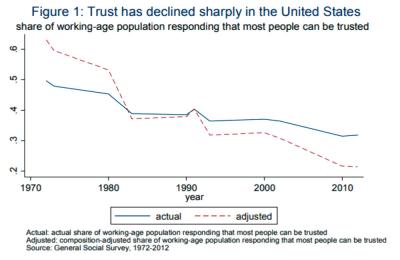 We are in the midst of a crisis in social trust in the United States. Over the past 40 years, the extent to which individuals trust one another has sharply declined. Since the early 1970's, the share of persons in the United States responding that most people can be trusted has declined from about fifty percent to thirty-three percent by 2010 (Figure 1). In 2018, communications marketing firm Edelman found only a third of Americans trust their government "to do what is right". Trust in business and non-governmental institutions decreased by 10 and 9 points, respectively (Edelman, 2018). Edelman, which has for 20 years followed trends in local trust around the world, had never seen such a precipitous drop in the United States.
Trust matters. A lot. Researchers widely regard trust as a necessary condition of social integration, economic efficiency, and the source of what holds our government together. Without trust, we have no society as we know it.
Measuring Community Trust – University of MN
While a seemingly daunting task, insightful and forward-seeking organizations are seeking quantifiable ways to measure and develop meaningful tactics addressing this issue. One such organization is the University of Minnesota Extension. After a search for peer programs addressing social capital began in 2002, MN Extension launched a pilot program in 2004 for the development of a "social capital assessment" program directed at communities in counties across greater MN.
Their methodology focuses on 3 types of networks:
Bonding Networks: "Close ties that help people get by. These connections are usually with family, friends, and neighbors."
Bridging Networks: "Weaker ties that can help people get ahead and gain opportunities. These networks are usually with people different from themselves who are engaged in different types of networks like occupations, organizations, etc..."
Linking Networks: "Links to organizations and systems that can help people gain resources and bring about change. These connections are usually with organizations that have resources, both within and outside the community."
Through the program, participants seek to answer questions such as:
What are the norms of community behavior?
How safe do people feel in our community?
Do people trust each other?
Who feels included and who feels excluded?
Is our community diverse in its attitudes, opinions and cultures? Do we bond with people who are different than ourselves?
How involved are our members in civic activities?
South Dakota In the Spotlight
For South Dakota communities, rapidly changing times dictate the need for nimble leadership. One area of sudden and immediate change has been in the state's Hispanic population. South Dakota saw the 2nd fastest increase nationally in its Hispanic population per 100,000 citizens at 66% (Pew Research, 2020). This could indicate a present challenge if not proactively addressed in our communities. Robert D. Putnam's notes in his paper E Pluribus Unum: Diversity and Community in the Twenty-First Century:
"Ethnic diversity is increasing in most advanced countries, driven mostly by sharp increases in immigration. In the long run immigration and diversity are likely to have important cultural, economic, fiscal, and developmental benefits. In the short run, however, immigration and ethnic diversity tend to reduce social solidarity and social capital. New evidence from the US suggests that in ethnically diverse neighborhoods residents of all races tend to 'hunker down'. Trust (even of one's own race) is lower, altruism and community cooperation rarer, friends fewer. In the long run, however, successful immigrant societies have overcome such fragmentation by creating new, cross-cutting forms of social solidarity and more encompassing identities."
While the future may be hold opportunity, attentive short-term tactics by leadership and institutions in the present is crucial. One such example was the work of Jared Hybertson, Executive Director of the Centerville Development Corporation and Economic Development Coordinator for the City of Centerville.
Hybertson, in his role as Executive Director and Economic Development Coordinator, represented a linking network for his community. The social relationships with the Mexican community that benefited because of Maria's establishment represented a bonding network. Through this tactic, Hybertson established a bridging network through targeted programming and communications strategy. Hybertson's relationship to an additional linking network through the 2018 Change Network enabled coordination, education, and targeted funding.
Solutions that build social capital are, as one might expect, varied, and catered to each specific community. What worked in Centerville may not work in Webster. The problems faced in Huron may not reflect those faced in Delmont. That said, the tools are available to:
Identify and measure trust and social capital in a community.
Analyze and decipher data to determine goals and strategy and see if there is a problem to solve.
Coordinate and identify tactics to address those goals.
Execute tactics.
Measure and understand data to understand (see) if you have solved the problem.
The SDSU Community Vitality team wants to be the linking network to addressing social capital and trust in your community. Contact us and begin your journey today.
Sources:
Putnam, R. D. (1995), "Tuning In, Tuning Out: The Strange Disappearance of Social Capital in America", Political Science and Politics, v. 28 (4), 664-665.
2018 Edelman TRUST BAROMETER. (n.d.). Retrieved October 15, 2020.
Our Community: Assessing social capital. (n.d.). Retrieved October 15, 2020.
Number of Hispanics has grown in four states with declining overall populations and accounted for more than half of growth in 21 states from 2010 to 2019. (2020, July 10). Retrieved October 15, 2020.
Putnam, R.D. (2007), E Pluribus Unum: Diversity and Community in the Twenty‐first Century The 2006 Johan Skytte Prize Lecture. Scandinavian Political Studies, 30: 137-174. doi:10.1111/j.1467-9477.2007.00176.x
South Dakota Change Network: Jared Hybertson. 6 Nov. 2018.